Get to know us!
Marcy Karna 503-348-6301
Hair design comes naturally to Marcy. With 16 years of professional experience in the industry, Marcy has vast knowledge in advanced hair coloring and cutting techniques.  She is Pivot Point trained and apprenticed with Aveda early in her career. Marcy has continuously pursued education in her craft. She specializes in hair coloring for gray coverage, both natural and artistic highlighting techniques and precision haircutting for all hair types.

Marcy knows the most important part of her service is the consultation. By listening carefully to the lifestyle you embrace and the look you desire Marcy applies her knowledge and artistic ability by making suggestions that readily suit your needs.

As a native Oregonian residing in Portland since 1996, Marcy appreciates everything Portland has to offer; cycling, snowboarding, good food, concerts, and walking her dog.
Starr Leavey 503-866-5928
Starr has worked in the industry for 8 plus years. After moving from San Francisco to Portland, she trained and worked with the Evolution Hair Design team for several years. Taking into consideration face shape, bone structure, proportion and lifestyle, Starr loves discovering the perfect cut and hair colour for you. When she's not making you look beautiful, she loves hanging out with her dogs, chasing patches of sunshine, practicing yoga, playing the Ukulele, perpetually learning Spanish and watching her nieces and nephews grow. She continues to learn more about her trade from the artists of UNITE, Pureology, Kevin Murphy, Gene Juarez, Keune, Davines, and her inspiring team at Karna A Finish Salon.

Her favourite coffee drink is an iced decaf Americano.
Kara Mishler 971-221-8244
A native Portlander, Kara was in the first graduating class at the Aveda Institute Portland in 2009. She was at the top of her class and was quickly offered a position at the newly opened salon, Smash Cut in NW Portland. After completing her apprenticeship under her mentor, Kevin Loos, she quickly built up a wonderful clientele, many who continue to see her today. Smash Cut closed its doors two years later and Kara decided to take this opportunity to volunteer and travel in Thailand for six months. Once back in Portland, she joined the Karna team.

She is passionate about all things hair, from simple cuts to complex styles and curls – and her math aptitude translates beautifully into her hair coloring and highlighting skills, she is confident and thoughtful in changing up or maintaining your hair cut and/or color. You will enjoy your entire experience from the shampoo bowl, to the blowout/styling and you will never feel rushed in her chair.

In her free time Kara loves to spend time with her family and friends enjoying the many offerings of this amazing City – hiking, music, ethnic foods, vintage treasure shopping are among the places you will find Kara.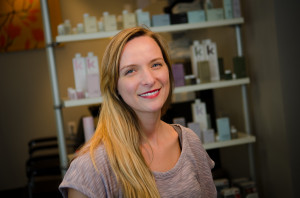 Erika Cuscaden 503-701-1814
Erika Cuscaden has 15+ years of experience as an independent hair
stylist in Portland. She has an in-depth knowledge of current trends
and styles and is an expert in a range of cuts and color techniques
for men and women. Erika started her apprenticeship at Richard Herrera
and took additional training with Vidal Sassoon. She has worked with
top products like Unite, Phyto, AG, Kevin Murphy and Redken. Erika
loves to travel (to the sun!) and has a passion for marine biology.
Desiree Dotzenrod 949-228-2170
Desiree has several years of expertise in the spa industry.  As a southern California native, beauty was everywhere so esthetics was a natural fit and interest for her.  As a licensed aesthetician she's experienced in many areas of esthetics, including but not limited to:  custom facials, all types of body waxing, body scrubs, body wraps, organic custom spray tanning, lash tinting, eyelash extensions, microdermabrasion, chemical peels and LED light therapy.  Desiree attended Northwest Laser Institute in Redmond, Oregon and received additional certification and training with lasers such as BBL and IPL.  She's meticulous by nature and prides herself in making her clients happy and looking gorgeous. She loves to work with new clients and educate them about the importance of skincare and sun protection. Whether it's a beautiful new set of NovaLash eyelash extensions, or a great custom spray tan, you'll be ready for your next vacation or night on the town after Desiree has made you look amazing.  She enjoys keeping up on current industry trends and believes strongly in continuing education. When Desiree is not at the salon, she enjoys spending time with her family, including her little three pound pomeranian named Joey. She enjoys camping with her family on Orcas Island, relaxing on a sun filled sandy beach somewhere, traveling to Europe, wine tasting, shopping, working out at her favorite Pilates studio, skiing, and watching her children in their various sporting events.